Part 1 of this story can be read here
Vanden Plas' famous 'Kingsbury Works' was opened in 1923.
To celebrate what would have been the factory's centenary we examine this often misunderstood name, which had a profound effect on British automotive history and pioneered an aspect of the modern car industry.  
With the new integrated BMC Farina-styled Westminster range coming on stream in 1959, Lord requested Kingsbury develop Vanden Plas-trimmed versions of the planned Austin and Wolseley models. Known as the Wolseley 6/120 and Austin A120, five prototypes of each were made and the marketing department even started printing literature.
Three months before the car's 1958 Motorshow debut, Lord phoned VDP's MD Roland Fox and cancelled both, replacing them with a unique Vanden Plas Princess version of the new big Farina instead. Fox was initially livid because of the time wasted and the pressure he was now under to produce a prototype in time for the show. He soon realised Lord was right, however, a quality car produced at the right price could rival the Rover 3-litre. So, Bradley and Fox designed a grille that was, unsurprisingly, a cross between Bentley and Alvis. They took a grille to Longbridge and held it up in front of a Westminster! Lord liked it and gave it the green light. The Princess 3 Litre was announced at the 1959 Motorshow and Vanden Plas was suddenly a marque: they had a badge, a grille style and an image in the public's mind.
From that slightly uncertain start, Vanden Plas flourished through the sixties and into the seventies. The limousine and Westminster-based 3-litre cars were joined by an upmarket version of the ADO 16 1100 in 1964. A genius bit of thinking which again came from Fred Connolly who had requested VDP build him a more luxuriously trimmed ADO16 to use around 'town'.
A luxury version of a small and economical car may seem counterintuitive, but the Princess 1100 had its appeal firmly planted in the British class system. It was the perfect car for retiring managers trading down from being a two-car family to single-car ownership because it had the interior feel and comfortable ride of the larger luxury cars but was not as thirsty or intimidating to park. For those buying it as a second car, it reduced the feeling of the smaller car being a second-class machine, and it also appealed to those who aspired to a larger Princess, but, for whatever reason, couldn't afford the 3-litre. In short, a luxury version of what was, for ten years, Britain's best-selling car was marketing perfection and the sales figures proved it. Nearly 40,000 'baby' Princesses were made during the car's eleven-year life span and at £895 it seemed like a bargain compared to the larger cars, although a base model Austin 1100 was only £593.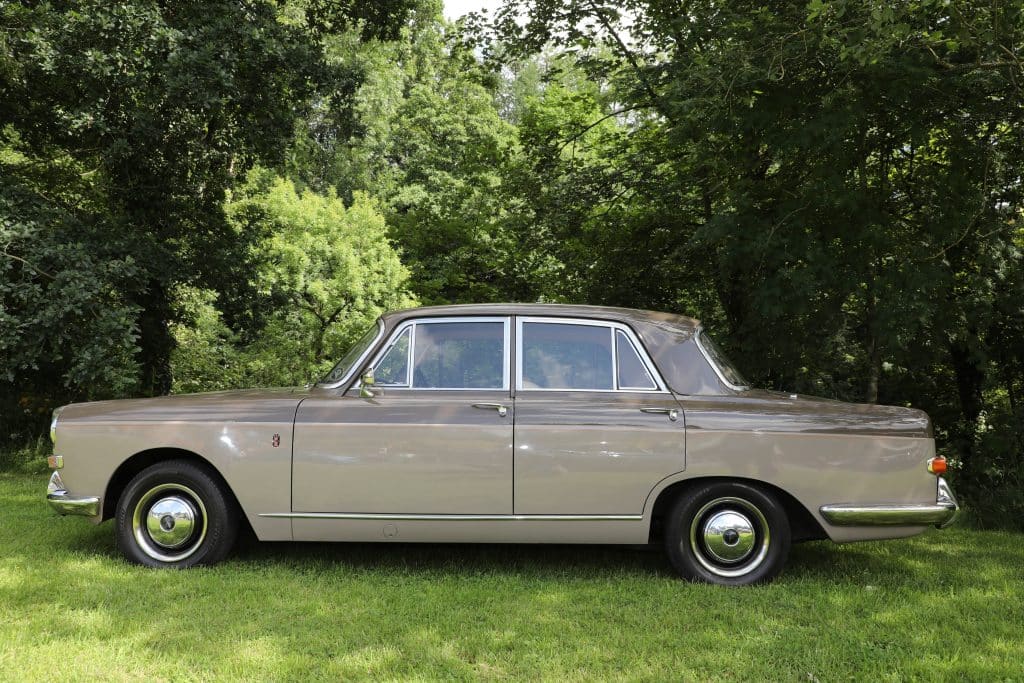 As the sixties got into full swing BMC made what, in hindsight, can be seen as an error by re-engineering the Farina Westminster bodyshell yet again (it had started life in 1954 as the A90 Westminster) and fitting the Rolls-Royce 4-litre FB.60 straight-six engine. The deal was done because Rolls had many of these engines left from a military contract and Vanden Plas' bigger car was starting to look outdated against more modern opposition. It was a slow seller though and only 6,999 were produced between 1964 and 1968. That of course makes them a rare and interesting machine in the classic world, especially because many were used for diplomatic or government work.
Jaguar's merger with BMC in 1966, and the subsequent creation of the even larger British Leyland in 1968, would lead to Vanden Plas also finishing off versions of the Daimler-badged Vanden Plas XJ6 or XJ12 saloons to a higher trim standard. These looked fabulous inside but, ironically, the stiffer seats fitted were criticised by road testers at the time as not being as comfortable as Jaguar's standard seats.
The ADO 16's successor, the Allegro-based 1500, marked the end for Vanden Plas as a stand-alone brand. The Kingsbury Works, a very small operation within what was, by then, the sprawling, uncontrolled and cash-haemorrhaging BL empire, closed in 1979. Many of the workforce took early retirement although some moved to Coventry where the Daimler DS420, which Vanden Plas had started producing in 1968, was going to continue at the Jaguar plant.
The Vanden Plas 'finishing' of the Longbridge-built 1500 (or 1750 in auto form) was moved to MG's factory in Abingdon. The final Vanden Plas branded car rolled off the line at Abingdon on the 21st of August 1980 and it is a measure of the car's diminished market appeal that the last cars to leave the plant did so on 28th of November 1980, three months later.
BL, however, did not let the Vanden Plas name go cold and announced the Rover 3500 Vanden Plas (SD1) in September 1980. The name had reverted to being a top-level trim option rather in the way Ford used fellow coachbuilder Ghia. The last UK market car to use the Vanden Plas trim level was the Rover 75 although the name was used by Jaguar in the North American market until 2008. Outside of North America, the Vanden Plas name is now owned by Chinese government-owned manufacturer SAIC (originally through Nanjing's acquisition of the MG-Rover in 2005), along with Austin and many other marques that ended up in the BL melting pot.
Vanden Plas may be slightly mocked today for making 1100s fit for the wives of retired colonels to use around their Cotswold Village but what BMC and Sir Leonard Lord actually did was tap into the human need for one-upmanship by producing an upmarket, or in today's language 'premium segment' car, using cheaper mass-produced components, the first European company to follow a business model that was then rapidly becoming part of the American car market. Today this component sharing business model is the basis of almost the whole car industry. The Audi A3 is far more profitable than the Golf on which it is based just as the various Lexus, Infiniti, Acura or Cadillac models are more profitable than the higher volume Toyotas, Nissans, Hondas or Chevrolets they share a variety of components with.
Vanden Plas may now seem like a walnut picnic table-sized footnote on the global banquet that is the modern automotive industry, but their cachet was used by BMC to pioneer a cornerstone of modern automotive branding, and they deserve to be remembered for that as much as for the comfortable luxurious cars that carried that quintessentially English, Belgian name.