The Goodwood Revival's 25th Anniversary was a combination of time travel and motorsport excellence, presided over by the venue's very own 'Timelord', motor racing enthusiast Charles March, the current Duke of Richmond and Gordon. We popped along to experience the weekend, so here are the highlights and memories from the Peter James Team.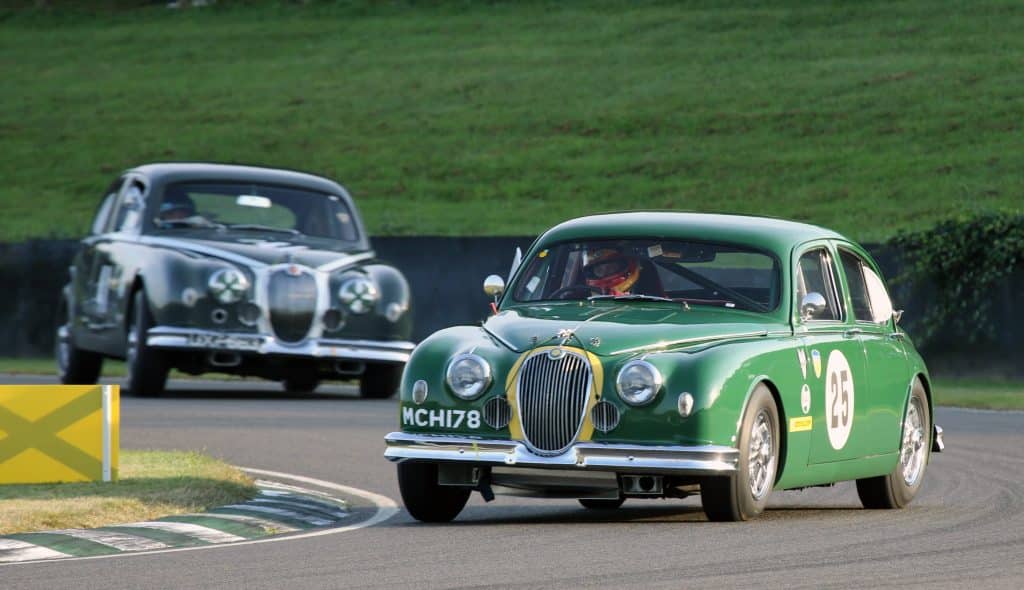 The Goodwood motor circuit was a central part of British motorsport between 1948 and 1966 having been opened by Freddie March, a pre-war Brooklands winner, who was the current duke's grandfather and later the 9th Duke of Richmond. His friend, Squadron Leader Tony Gaze, suggested using the perimeter road bordering the RAF Westhampnett aerodrome which had been built on the estate during the war as a motor racing circuit and the duke seized upon the idea. The current duke opened the racing at this year's Revival by leading a parade lap driving the Pyecroft Jaguar SS100.
Recently restored, the Pyecroft Jaguar SS100 is the car that won the first-ever motor race at Goodwood.
The Revival is not just a classic car meeting, it's not a classic race meeting, it's not a vintage and craft fair, a classic air show or a multistage live music event and drive-in movie theatre: it is quite simply a unique happening, an enormous costume party themed around the 1950s/1960s culture, car and planes. The Goodwood organisers create theatre on a grand scale and it's impossible to describe it all without resorting to unbelievable hyperbole.
The entrance to the event always has a theme and this year a live circus was taking place all weekend. Hence we have a picture here of a circus acrobat and strongman in a Leopardskin onesie being gazed at by two spooky clowns at a motor racing meeting. It makes a change from cars…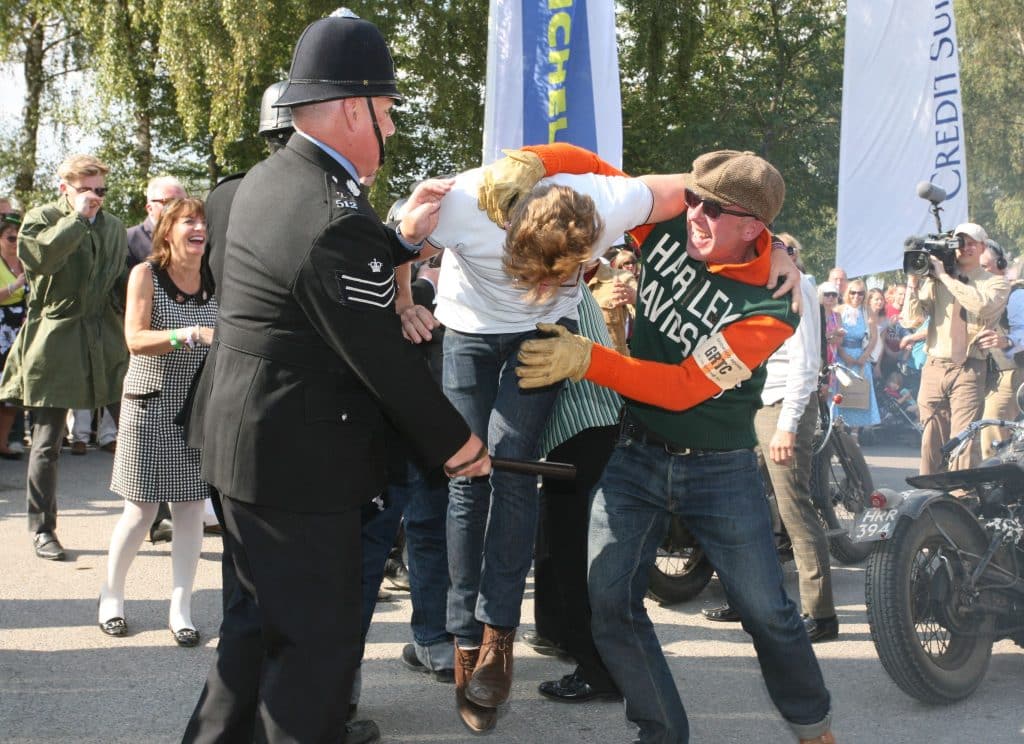 For the 25th anniversary, the Revive and Thrive area had been expanded and included a stage demonstration where, among other things, you could learn how to basketweave with expert (and off-duty maths teacher) Mary Crabb and stage host Micheala Sharp. 
Basket weaving may give some serenity, but the racing is always fantastic.
This year a special race celebrated the Centenary of the Le Mans 24 Hour race. Drivers re-enacted the famous Le Mans start using some of the cars that were actually in those early 24-hour races. Drivers included such luminaries as Derek Bell and Nick Swift.
The St Marys Trophy for saloon cars is always a crowd favourite but this year contained a car most didn't recognise. If you can't guess we'll tell you at the end.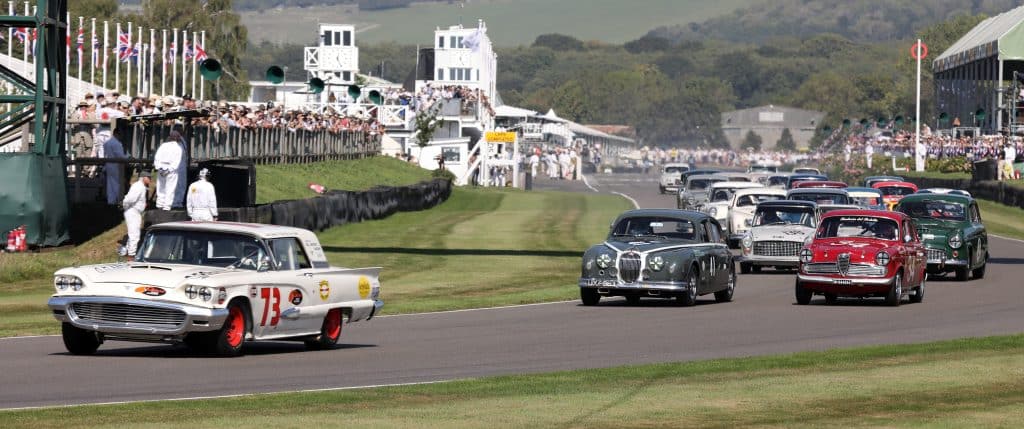 The V8 power advantage of the Richard Shepard/Romain Dumas Thunderbird took it to victory in both races with only the Justin Law/Rob Huff Jaguar Mk1 looking in the same league.
The contest for 4th in the first race was one of the most epic ever seen at the Revival, as two motor racing legends from very different disciplines, 2009 F1 Champion Jenson Button and 7-time NASCAR Champion Jimmie Johnson battled all race long, losing the green Austin Westminster of 3-time Le Mans winner Benoît Tréluyer after a few laps.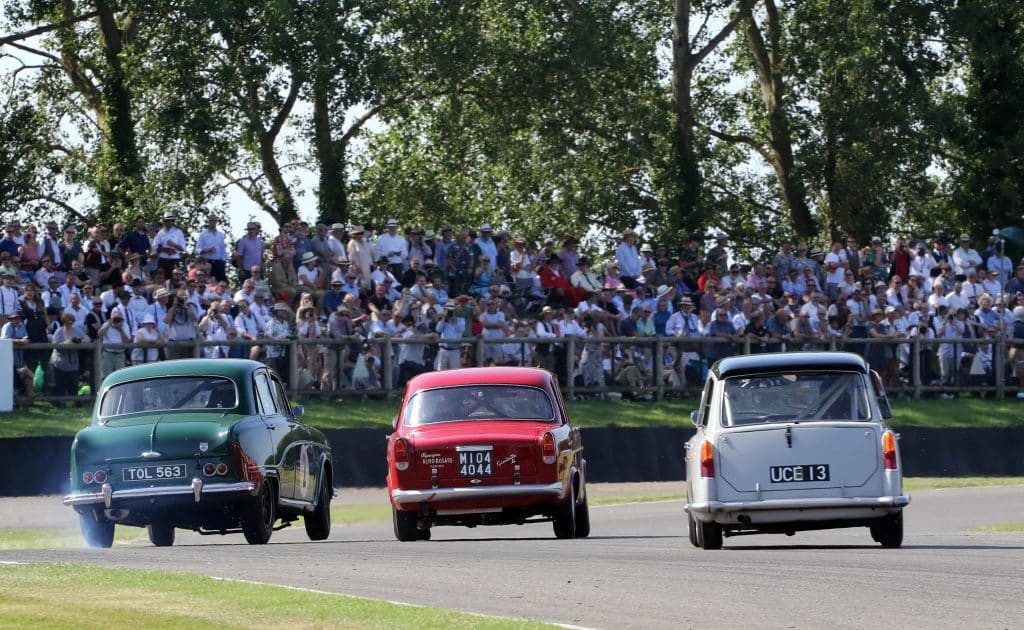 Johnson flung his Austin A40 around Goodwood in fantastically spectacular style, having joked he'd never seen a car that small let alone raced one but ended up narrowly losing to Jenson's Alfa Romeo Giulietta TI. Two legends of the sport, and friends after their Le Mans exploits, racing purely for fun and proving that class will out.
The Alfa team have Italianised the names of all those who have driven the car over the years.
Goodwood's importance to the war effort as an air base was central to the creation of the circuit and the aviation display has always been an important part of the Revival.
This year two Spitfires carried out a patrol at the beginning and end of every day, flying in and out of the sun before making low-level passes and prompting many to stay in their seats to watch the air display after the racing had finished.
A display had also been created in one of the bars around the Spitfire 'Barrel Bombers'. As the Allies were advancing back through Europe, regaining the territory taken by Hitler's Germany, the Allied army was thirsty and wanted their beer cold. These aircraft were fitted with a barrel of beer fitted under each wing and then flown up to 20,000 ft or higher where the temperature could be as low as -20°C. This chilled the barrels sufficiently for their contents to be drunk at their optimal chilled temperature soon after the aircraft landed.
Goodwood also provided some glamorous aircrew from the early days of the jet age to enhance the aviation display.  
A race for early short-wheel-base 2-litre Porsche 911s only celebrated the model's 60th anniversary and was a great spectacle and produced great close racing battles all the way through the field. These cars were also run on sustainable fuels, creating a huge milestone in history for the event and the historic racing movement as a whole. 
And included Porsche specialist Richard Tuthill demonstrating that the tyre barriers work really well.

Former BTCC Champion Andrew Jordan, who has won numerous races at Goodwood over the years, took a convincing win sharing with the number 9 car's owner, Matthew Holme.
A grid of 911s is worth a pretty penny but this year's Lavant Trophy must surely be the most valuable grid ever assembled for a motor race. Dedicated to a celebration of 1960s Ferrari GT cars, and won by Rob Hall driving Miles Collier's 250LM, it also contained 2 GTOs, the famous 250GT Bread van and numerous other cars whose value would be measured in 7 figures. It did look glorious though!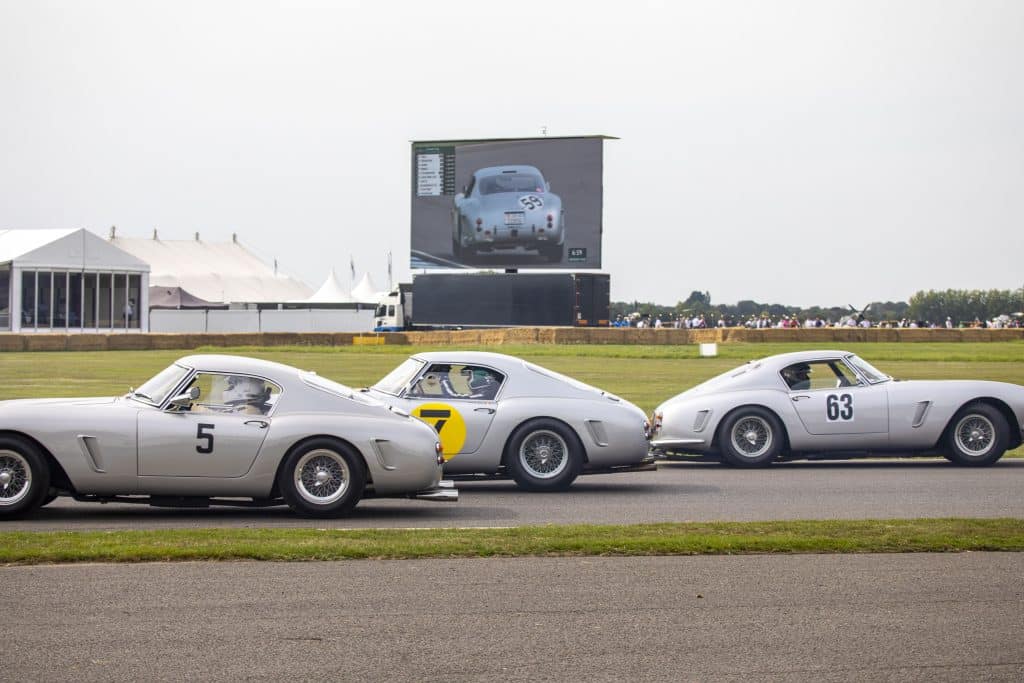 Practice produced this heart-stopping and visually confusing moment with four silver 250GT SWB models appearing to be travelling in 3 different directions!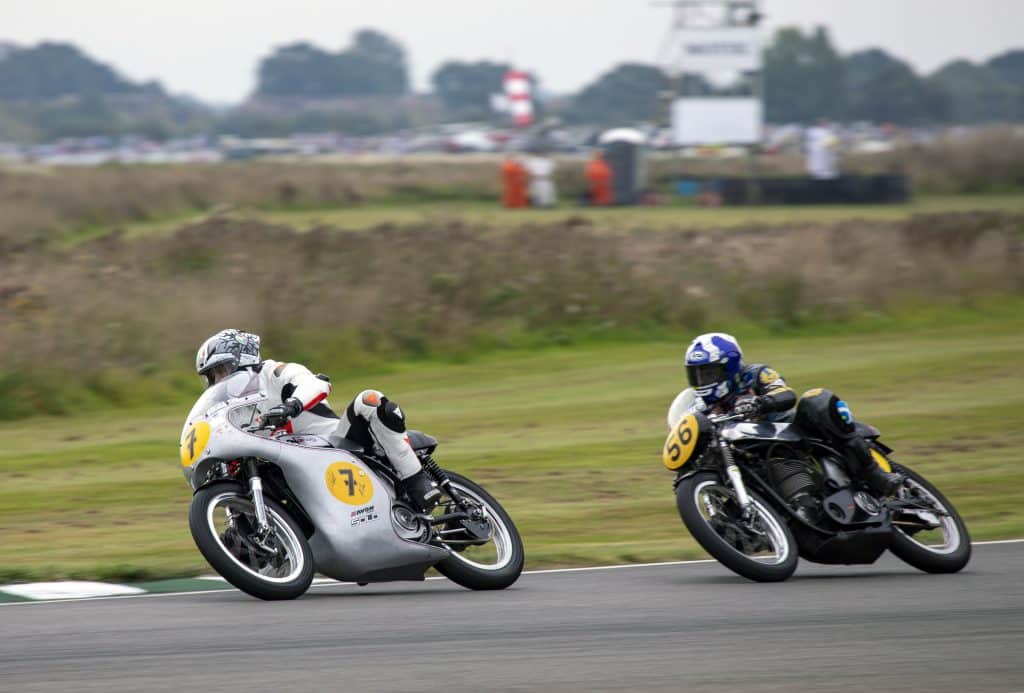 Motorcycling legend Steve Parrish announced his retirement at Goodwood and finished an amazing 50-year career in the sport in an appropriate way, sharing a Norton in the Barry Sheene Trophy with Freddie Sheene, Barry's son. Parrish was a good friend of Barry's and was his teammate at Suzuki. The pair came home a creditable 10th. 
Kent-based Rag and Bone Man Paul Firbank pulled this damaged wing out of Morgan's scrap bin and was leading a project with the Heritage Skills Academy to convert it into a Chaise Longue. He doesn't lack ambition, he had a 340kg jet engine in the back of his shop which he had turned into a chandelier…
And that mystery car?
It's an Austin Lancer BMC Australia's take on the Morris Minor/Wolseley 1500 parts bin idea but with added fins.
If you have a classic car you'd like to insure, get in touch here: Classic Car Insurance – Peter James Insurance.