The UK produced a constant stream of champions and challengers during the first fifty years of the World Championships but no British bikes at all for them to ride! You have to go right back to 1952 and Geoff Duke on the 350 and 500cc Manx Nortons to find a British rider and machine combination atop the Championship standings. Amongst many abortive projects in that era, only one actually seemed to have a genuine chance of fulfilling a nation's expectations. That was the BSA MC1 250cc single-cylinder racer that was created in the early 1950s by the world's largest motorcycle manufacturer of the day.

The MC1 was conceived by Bert Hopwood who in the immediate post-WW2 era worked as an engineer at Norton. For them, he created the legendary Dominator parallel-twin and this caused him to be head-hunted by BSA where in 1948, at 40 years old, he took over as that company's Chief Engineer.
A year later he came up with the concept of the MC1's unique engine which featured a horizontal cylinder that breathed through four radial valves (two inlet and two exhaust). These were operated by two short vertically arranged overhead camshafts positioned in an inverted vee and connected by bevel gears. At a time when a long-stroke engine format was the accepted norm, the engine's 'square' dimensions (meaning it had an identical 68mm cylinder bore and 68mm piston stroke) were very unusual.
That same year, Hopwood's assistant at Norton, 30-year-old Doug Hele, followed him to BSA. Hele, of course, was later to find fame in his own right as the developer of highly successful racing versions of Triumph's triples and twins. But back in 1950, he was commissioned by Hopwood to put the BSA 250 single-cylinder racer concept into metal as the prototype for a family of road bikes and also with a possible racing version to be prepared for the Lightweight TT in the Isle of Man, where the Moto Guzzi singles of a comparable overall format were then currently dominant.
With a completely free hand to develop the bike as he saw fit, Hele took the Hopwood layout as his starting point, retaining its overall architecture with the air-cooled cylinder inclined slightly upwards at 15º from horizontal to help deliver a reduced frontal area. To provide sufficient flywheel inertia as well as to ensure a compact dry-sump crankcase design a Moto Guzzi-type outside flywheel (8½ inches/216mm in diameter) was mounted on the left side of the crankshaft, slightly inboard of the dry clutch behind it.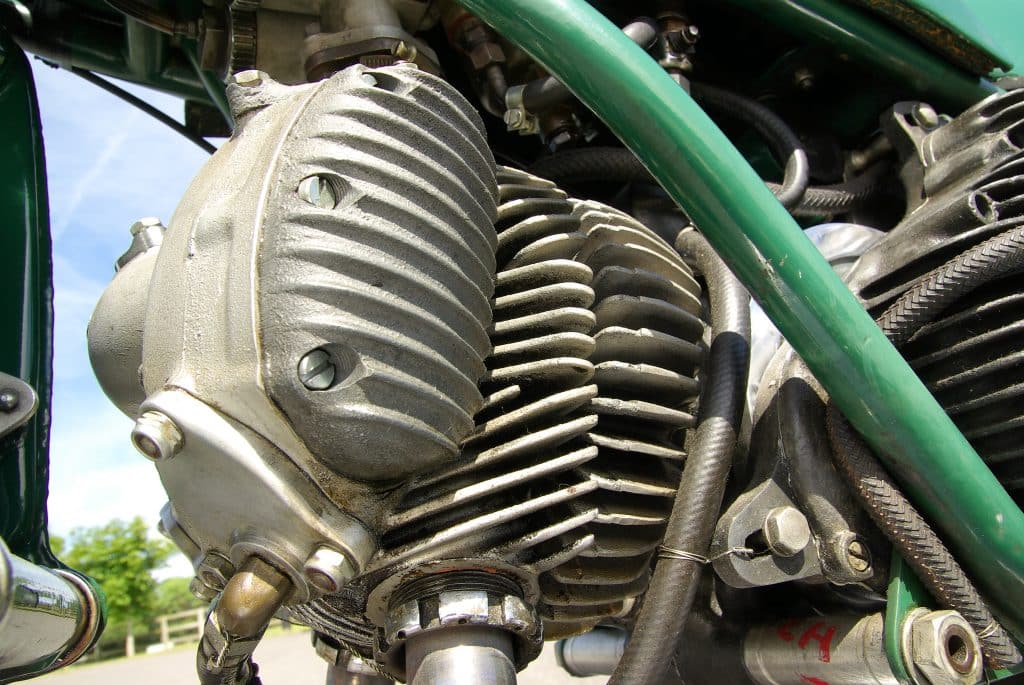 The design of the MC1 engine was completed over the winter of 1950/51, and Hele set about designing a chassis to accommodate it. As revolutionary for its time as was the engine, this was essentially an early forerunner of today's twin-spar aluminium frames in terms of wrapping tubes around the engine to link the steering head directly and rigidly with the swinging arm pivot.
The rear suspension layout featured a triangulated swinging arm sub-frame which pivoted monoshock-style with its movement controlled by a single Girling combined spring and hydraulic damper unit that was mounted horizontally under the seat.
The front suspension was similar to the conventional swinging arm rear suspension of the era but was unusual in that the steering head stem was actually clamped between the upper and lower frame tubes and, therefore, did not turn as a result of handlebar movement. Thus, it was essentially an integral part of the frame rather than the forks and contributed greatly to the all-important rigidity needed in this vital area.
A large tubular 'steering head' rotated around the fixed stem and thus guided the swinging arm assembly in which the wheel was mounted. Its large diameter permitted the use of much bigger bearings to aid smooth steering and further enhance rigidity in this critical area.
By October 1952 the motor was delivering 31bhp at 9,500 rpm, running on two Amal TT9 carburettors, rising to 32bhp at the same revs when switching to the later Amal GP racing units. Testing on the banked MIRA test track near Nuneaton on Good Friday 1954 went well, with the bike running at 104mph through the speed trap – a very good speed indeed for a 1950s two-fifty.  And back at MIRA in May, the MC1 reeled off 18 laps of the banked oval track at a 99.50mph average. The test team also returned in June to cover 130 miles at over 100mph – quite promising for those days, especially considering the bike didn't yet have any form of streamlining or fairing.
This encouraged Bert Hopwood to believe the MC1 was now ready for prime time, so on September 24 at Oulton Park, 12 days after he had won the Italian GP at Monza and so retained the 500cc World Championship title on his four-cylinder Gilera, Geoff Duke was on hand to give the BSA MC1 its first serious track test. After eight shakedown laps and a couple of stops to adjust the carburation, Duke reeled off 14 laps at high speed before stopping to change to stiffer front fork springs to prevent the two exhaust pipes from grounding. He then did another 12 laps increasingly fast and reported that the engine had potential and the handling was very good.
After further development work back at the factory, Duke met up with the BSA team on a dry but cold December day, again at Oulton Park. There he equalled the official lap record that stood to John Surtees on his NSU Sportmax! Suitably impressed, Duke submitted an entry for the 1955 Lightweight TT, for a GDS 250 – i.e. a "Geoff Duke Special".
When word of this reached the national press, it caused a furore and it was swiftly deduced by motorcycle journalists that the bike in question was the BSA MC1. Whereupon the phone wires to Small Heath from Fleet Street started burning, even the BBC reported on its evening news that the reigning World Champion was going to ride a British bike in the TT that June!
Subsequently, Bert Hopwood was summoned for a dressing-down by BSA's Managing Director, James Leek, and told that the company's management had no intention under any circumstances of going racing with such an untried bike. Duke, therefore, withdrew his entry his TT entry for the mystery 'GDS'.
Development of the MC1 continued until it was decided, with BSA management's approval, to enter Geoff Duke on the bike in the important Hutchinson 100 National meeting held at Silverstone. It was entered as a Rudge, to protect the BSA brand in case of failure. But it was an open secret that the "Rudge" was actually the BSA MC1 and the company management was still extremely nervous. So much so that the day before the Silverstone practice was due to start, Hopwood and Hele were summoned once again to James Leek's office and asked if they could guarantee that the MC1 would win.
"We go racing properly, or not at all," Leek is reported as saying, according to Doug Hele. "If we race, we have to win. Unless you can guarantee here and now that the machine will win, you can put it away and forget all about it."
Inevitably, no such guarantee was forthcoming and Duke did not start. And, just to complete the irony, John Surtees led the 250cc race on his 34bhp NSU Sportmax for 18 of the 20 laps at Silverstone that day, until the engine blew and Arthur Wheeler on his much slower privateer Moto Guzzi won the race.
Could the BSA team actually have achieved the mission its company's management demanded of it? We'll never know, but as Duke had beaten John Surtees's lap record at Oulton Park (which John had set on the Silverstone-winning NSU) a win for the BSA MC1 could well have happened and the British fans could have seen a BSA challenging for the World Championship in 1956
What is certain is that the MC1 project ended there and then, with the solitary bike was consigned to a shed in BSA's Small Heath factory. It was exhumed from there, dusty and neglected, for journalist and collector, John Griffiths to acquire it in 1971 for the Stanford Hall museum near Rugby. That was luckily just before BSA went broke otherwise one of the most interesting British bikes of the 1950s would surely have been scrapped.
Thankfully, BSA's only potential Grand Prix challenger is now in the Sammy Miller Museum near New Milton in Hampshire where enthusiasts can see what could have been, what probably should been, and even perhaps what would have been…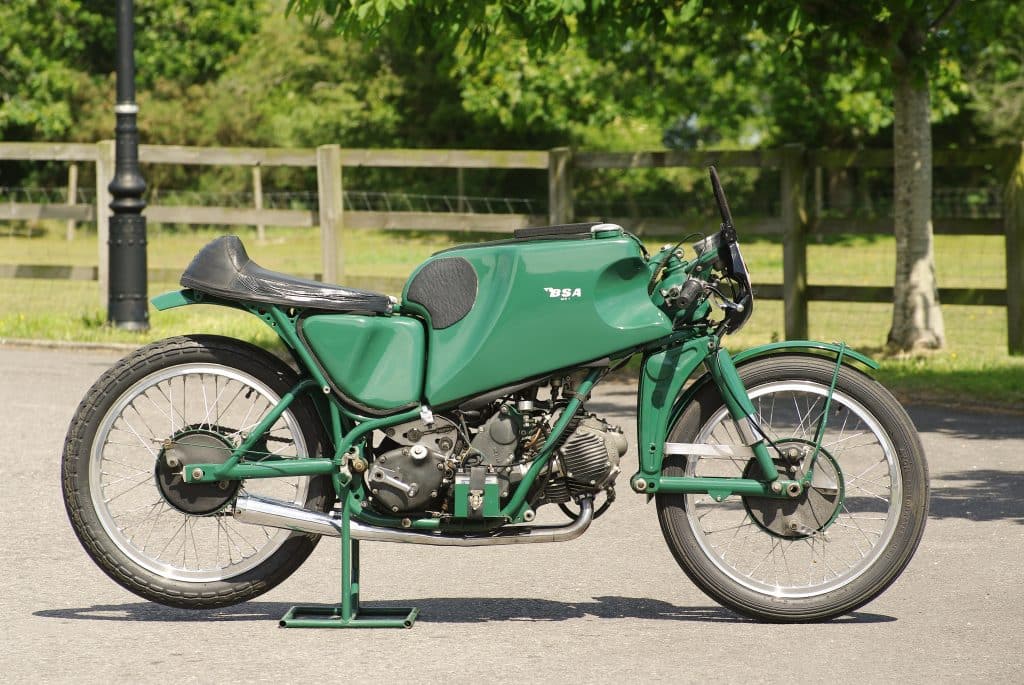 Information and images provided by The Motorcycle Files archive. For detailed information on the BSA MC1, we recommend the e-book by Alan Cathcart in The Motorcycle Files series available exclusively from Amazon. For information on the Sammy Miller Museum go to www.sammymiller.co.uk
Words by Bruce Cox 
If you have a classic motorcycle and would like a quote, please click here.